(I'll start in the middle and work outwards): This was my first convention, so I hadn't prepared for Autograph Night, when almost all the authors, Great and Small, wait at tables like smiling teachers on parent conference night without the hypocrisy.
If I'd understood what "Autograph Night" meant, I would have brought along my Peter Straub books (especially "Shadowland"-- Fanny the Wonder Rabbit, alas, made toast out of Straub's "Ghost Story". I could honestly tell him that she really enjoyed it, prefering it to everyting else on the shelf except Steinbeck and Robert Stone, and those she only sampled.)
I settled for shaking hands with
Charles Vess
to tell him I admired his work.
It might have sounded more sincere if I'd bought his print of a faery procession in the dealers' room, or I'd brought his Sandman work or
"The Book of Ballads"
from home, but he seemed very pleasant and I'm sure he would understand the vagaries of a schoolteacher's budget. Later learned that the Comic Book Defense Fund has been helping them with catastrophic medical bills-- what a culture is this, that a Charles Vess doesn't have health insurance but God forbid we should tax windfall profits on oil. Saw them at parties but was too shy to approach. I later read that his wife (and this year's winner of the "cute spouse" award) Karen Schaffer is involved with the
Mythic imagination Institute
. If I'd known, I certainly would have introduced myself to ask about that and talk about Joseph Campbell, Robert Bly, Gioia Timpanelli, Coleman Barks et.al.
Aside from technical prowess, I admire how Vess avoids the "too pretty" trap of most faery art because he remembers both sides of the archetype.
His cheerful Puck has vicious teeth, his painting of Death is surrrounded by mummies as well as embryos waiting to be born, and there are drowned men's bones at the mermaid's feet.
John M. Ford's "The Last Hot Time" was the only book I'd packed for an autograph.
Mr. Ford is my nominee for the funniest person at the convention, though Graham Joyce might have tied. John M. Ford's reading included something called "The Fellowship of the Woosters". I have the impression that he saves this for readings and I don't think it's never been published, but Teresa Neilsen Hayden's blog mentions it fondly.
Ford's was my favorite of the readings I attended. Imagine that P.G. Wodehouse had written the first volume of Tolkein's trilogy, and an exasperated Bertie Wooster was dispatched instead of Aragorn to rescue "the world's only manic-depresssive hobbit".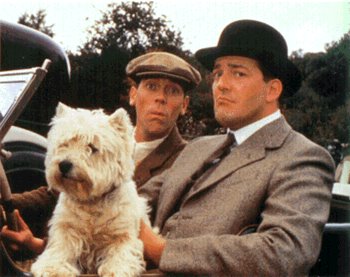 It seems pitch-perfect to me; I laughed out loud at some of it and constantly smiled through the rest of it. Our flesh has memory, and this reminded me of the first time I saw "Zelig", when I went home with my face muscles hurting. Let's face it, Gandalf IS rather like one of those scary aunts of Bertie's, and Arwen throws the wounded Frodo over her horse exactly as Honoria Glosssop might have done.
Mr. Ford's friends should urge him to send this to Hugh Laurie and Stephen Fry. I don't expect they'd put on funny beards and produce it, but they might send a nice letter.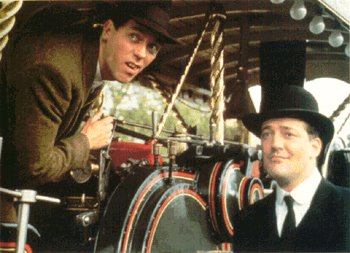 Gene Wolfe had the longest autograph line and everyone at the convention, young and old, seemed to regard him with great affection. I've never read his books but he has a great walrus mustache and funny, self-effacing humor on panels. If there were ego battles going on at this convention, everyone kept it away from the kids; I supect this is because this class of artists and writers are indeed ferociously competitive, but the war is with ourselves and with the ideal we've set for ourselves.
As far as I could tell, none of the rich and the powerful (read: published authors and artists blessed with at least a nominal existence) behaved like snobs to the underlings, with the exception of a couple of editors and a small press dealer or two. (To be fair, they were probably on their guard because everyone there wanted something from them. They could smell the hunger coming off the unpublished writers and beginning collectors like the ambidextrous pheromones at a Tori Amos concert.)
Judi Rohrig,
the publisher of
Hellnotes
-- who also bought my story
"Witch"
-- was very kind and answered my endless questions about convention etiquette. I'm sure she saved me from any major faux pas (too bad about the Teresa Neilsen Hayden incident; maybe she's forgotten my name by now...) This is sort of a holiday for many of the people there, so I kept my own work to myself unless someone asked.
I chatted with an amiable, rumpled curly fellow named Mike Dringenberg
about Salt Lake City, Neil Gaiman's coming movie and fan stuff. I recognized his name, and knew I had some of his work at home, but it wasn't until the next day that
I made the connection-- he was the co-creator of "Sandman" characters like Death and Desire, and started talking to me as easy as Stevie Yzerman down at the muffler and brake shop. (In an alternate dimension, my sister Colleen is married to Steve Yzerman, he runs the most honest garage in the state, and they have ten wonderful children.)
My favorite paintings in the art exhibit were illustrations for the ballad "The Faithless Sister" by
Hicaru Tanaka.
This is almost my favorite of the old ballads: a jealous girl drowns her sister because the sister won't give up her own true love. A bard-- not the leapy, "Brave Sir Robin" kind, but one of the scary shamanic Yeats black magician kind of bard-- finds her body and makes a harp from her breast bone, with her drowned hair for the strings and tuning pins made from her finger bones. When he sets the harp on the hearth stone of the proud house, the sister's voice sings the name of her murderer. There's a wonderful cover of the song by
Loreena McKennitt
on "The Mask and Mirror. She calls it
"The Bonny Swans".
That last scene with the murdered woman's voice reciting the members of her family and finally naming her killer: "And there does sit my father the King
with a hey ho and a bonny o
And yonder sits my mother the Queen
the swans swim so bonny o
And there does sit my brother Hugh
And by him William, sweet and true
And there does sit my false sister, Anne
Who drowned me for the sake of a man..." is for me one of the most chilling moments in literature. What came next? Madness, murder, suicide? Was anyone else complicit? (As Stephen King says somewhere, we try to achieve a Shirley Jackson frisson of terror, and if that doesn't work, go for the gross-out.)
The next night, someone introduced me to Mr. Tanaka. We shook hands and he offered his card in the Japanese manner, but alas, I've no business cards since the Emotional Collapse of Ought-Eight, when my pretension was lost in a fire. Everyone scolded me at the convention for not having a business card, so maybe it's time to revive them.
Although I'd written down the name "Hicaru Tanaka" after seeing his paintings, I made no connection with the gentleman there before me. We were both temporarily mute and we drifted apart, mildly embarassed. The next morning I realized he had made the paintings I so admired. I'm sure this happens a lot at conventions, where even the extroverts have to pace themselves.
More to come....